S1E8 -A second chance at New Voices in Virginia
Adviser Tiffany Kopcak discusses the second New Voices campaign in Virginia and offers tips for students in other states.
3 years ago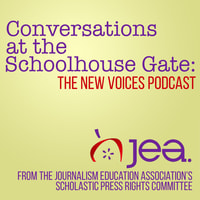 Episode Notes
Harrisonburg High School journalism adviser Emilee Hussack interviews fellow Virginian adviser Tiffany Kopcak about the second campaign to try to pass New Voices legislation in Virginia. Kopcak offers suggestions for students wanting to contact their own delegates or begin their own campaigns to create or support New Voices legislation in their own states.
If you are a student or a student media adviser with a story about scholastic press freedom, we want to hear from you. You can reach us at [email protected] with the subject line "Podcast" or tweet us at @jeapressrights. So you don't miss out on future episodes, please subscribe to this podcast through any of the many podcast applications available for your computer or phone.
Find out more at https://schoolhousegate.pinecast.co